My Blog
Posts for tag: gum disease
By Hankins and Herrin Family Dental
April 29, 2019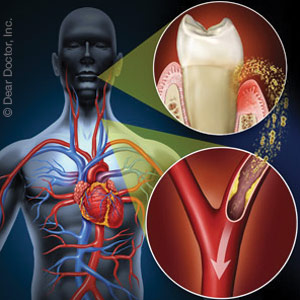 If you have periodontal (gum) disease, you probably already know you're in danger of eventual tooth and bone loss if the infection isn't brought under control. But if you also have diabetes, the effects from gum disease could extend well beyond your mouth.
Gum disease is a bacterial infection caused by plaque, a film of food remnant that builds up on tooth surfaces mainly due to poor oral hygiene. As the infection grows, your body's immune system responds by flooding your gum tissues with antibodies to fight it, resulting in inflammation. As the inflammation persists, though, it damages the gum and underlying bone tissue, which in turn leads to gum and bone loss from the teeth.
Diabetes also causes an inflammatory response within the body. The disease develops either as a result of the body's decreased ability to produce insulin to balance the glucose (sugar) levels in the bloodstream (Type 1) or the body develops a resistance to insulin's effects (Type 2). As a result diabetics experience abnormally high blood glucose levels, a condition called hyperglycemia. This triggers chronic inflammation that can lead to inhibited wound healing, increased risk of heart, kidney or eye disease, coma or death.
Gum disease can worsen diabetic inflammation, and vice versa. The effects of the oral infection add to the body's already overloaded response to diabetes. In turn, the immune system is already compromised due to diabetes, which can then increase the severity of the gum disease.
Research and experience, though, have found that pursuing treatment and disease management for either condition has a positive effect on managing the other. Treating gum disease through plaque removal, antibiotic therapy, surgery (if needed) and renewed oral hygiene will diminish the oral infection and reduce the body's immune response. Caring for diabetes through medication, diet, exercise and lifestyle changes like quitting smoking will in turn contribute to a quicker healing process for infected gum tissues.
Treating gum disease when you have diabetes calls for a coordinated approach on both fronts. By caring for both conditions you'll have a more positive effect on your overall health.
If you would like more information on the relationship between diabetes and gum disease, please contact us to schedule an appointment for a consultation.
By Hankins and Herrin Family Dental
March 30, 2019
If you've just received a dental implant restoration, congratulations! This proven smile-changer is not only life-like, it's also durable: more than 95% of implants survive at least 10 years. But beware: periodontal (gum) disease could derail that longevity.
Gum disease is triggered by dental plaque, a thin film of bacteria and food particles that builds up on teeth. Left untreated the infection weakens gum attachment to teeth and causes supporting bone loss, eventually leading to possible tooth loss. Something similar holds true for an implant: although the implant itself can't be affected by disease, the gums and bone that support it can. And just as a tooth can be lost, so can an implant.
Gum disease affecting an implant is called peri-implantitis ("peri"–around; implant "itis"–inflammation). Usually beginning with the surface tissues, the infection can advance (quite rapidly) below the gum line to eventually weaken the bone in which the implant has become integrated (a process known as osseointegration). As the bone deteriorates, the implant loses the secure hold created through osseointegration and may eventually give way.
As in other cases of gum disease, the sooner we detect peri-implantitis the better our chances of preserving the implant. That's why at the first signs of a gum infection—swollen, reddened or bleeding gums—you should contact us at once for an appointment.
If you indeed have peri-implantitis, we'll manually identify and remove all plaque and calculus (tartar) fueling the infection, which might also require surgical access to deeper plaque deposits. We may also need to decontaminate microscopic ridges found on the implant surface. These are typically added by the implant manufacturer to boost osseointegration, but in the face of a gum infection they can become havens for disease-causing bacteria to grow and hide.
Of course, the best way to treat peri-implantitis is to attempt to prevent it through daily brushing and flossing, and at least twice a year (or more, if we recommend it) dental visits for thorough cleanings and checkups. Keeping its supporting tissues disease-free will boost your implant's chances for a long and useful life.
If you would like more information on caring for your dental implants, please contact us or schedule an appointment for a consultation. You can also learn more about this topic by reading the Dear Doctor magazine article "Gum Disease can Cause Dental Implant Failure."
By Hankins and Herrin Family Dental
February 08, 2019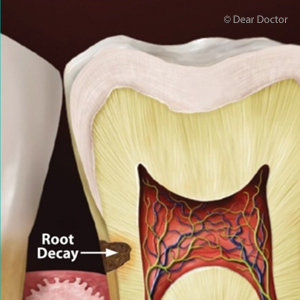 Tooth decay is a highly destructive dental disease, responsible along with periodontal (gum) disease for most adult tooth loss. And we become even more susceptible to it as we get older.
One form of decay that's especially prominent among senior adults is a root cavity. Similar to a cavity in the crown (visible tooth), this form instead occurs at or below the gum line in the roots. They happen mainly because the roots have become exposed due to gum recession, a common consequence of periodontal (gum) disease and/or brushing too hard.
Exposed roots are extremely vulnerable to disease because they don't have the benefit of protective enamel like the tooth crown, covered instead with a thin and less protective mineral-like material called cementum. Normally, that's not a problem because the gums that would normally cover them offer the bulk of the protection. But with the gums receded, the roots must depend on the less-effective cementum for protection against disease.
Although we treat root cavities in a similar way to those in the crown by removing decayed structure and then filling them, there's often an added difficulty in accessing them below the gum line. Because of its location we may need to surgically enter through the gums to reach the cavity. This can increase the effort and expense to treat them.
It's best then to prevent them if at all possible. This means practicing daily brushing and flossing to remove bacterial plaque, the thin, built-up biofilm on teeth most responsible for both tooth decay and gum disease. You should also visit your dentist at least twice a year for professional cleanings and advanced prevention methods like topical fluoride to strengthen any at-risk teeth.
You should also seek immediate treatment at the first sign of gum disease to help prevent gum recession. Even if it has occurred, treating the overall disease could help renew gum attachment. We may also need to support tissue regeneration with grafting surgery.
Root cavities are a serious matter that could lead to tooth loss. But by practicing prevention and getting prompt treatment for any dental disease, you can stop them from destroying your smile.
If you would like more information on diagnosing and treating root cavities, please contact us or schedule an appointment for a consultation. You can also learn more about this topic by reading the Dear Doctor magazine article "Root Cavities: Tooth Decay near the Gum Line Affects Many Older Adults."