My Blog
Posts for: December, 2017
By Hankins and Herrin Family Dental
December 29, 2017
Among our most common diseases, tooth decay can be a big problem at any age: in the U.S., one in four children 5 and under has some form of the disease, as well as ninety percent of those 60 and older — and a quarter of those have suffered complete tooth loss.
Fortunately, we now know what needs to be done on a regular basis to prevent tooth decay. Unfortunately, many are uninformed about all they need to do to lower their risk.
Here, then, are 5 questions to ask yourself to see if you're on the right prevention path or not.
Do I brush and floss daily? If not, you're aiding and abetting the "enemy" — bacteria that cause tooth decay. Bacteria that make up plaque feed on any food remnants that adhere to tooth surfaces. Brushing at least once daily (twice is better) removes plaque, while flossing removes plaque between teeth that can't be reached with a brush. Removing plaque will lower your mouth's acid levels that cause a loss of minerals to the enamel surface.
Do I use the proper techniques for brushing and flossing? While it's important to establish daily hygiene habits, if you're not performing them properly you won't realize the full benefit from your efforts. But don't dismay — we can train you in the proper techniques for brushing and flossing your teeth.
Do I use fluoride toothpaste? This naturally-occurring chemical strengthens tooth enamel and makes it more resistant to decay. You can increase fluoride's absorption rate into enamel by using hygiene products that contain it.
Do I constantly snack between meals? Saliva neutralizes acid remaining in the mouth after eating in about 30 to 60 minutes. If you're constantly snacking or sipping acidic beverages, however, saliva can't do this effectively. It's best to limit snacking to a few, specific times and restrict acidic beverages to meal time only.
Do I visit the dentist for cleanings and checkups? While brushing and flossing reduce plaque, it can't remove it from hard-to-reach places below the gums or harder deposits (calculus) that have developed. A professional cleaning twice a year removes the plaque and calculus left from daily hygiene. We can also gauge the health of your teeth and determine if tooth decay or gum disease may be developing.
If you would like more information on tooth decay prevention, please contact us or schedule an appointment for a consultation. You can also learn more about this topic by reading the Dear Doctor magazine article "Tooth Decay: How to Assess Your Risk."
By Hankins and Herrin Family Dental
December 14, 2017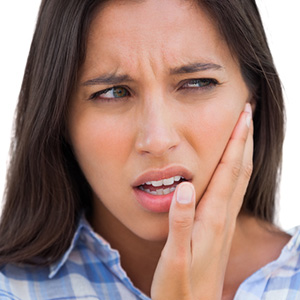 Have you ever felt a hot, burning sensation in your mouth—like it had been scalded—but you didn't eat or drink anything that could have caused it?
While you may think you're hallucinating, there's another possibility: Burning Mouth Syndrome (BMS). This condition, which can last for years, produces sensations in the mouth of not only scalding or burning, but also tingling, numbness and a decline in your ability to taste. Patients may feel it throughout their mouth or only in localized areas like the lips, tongue or inside the cheeks.
The exact cause of BMS is also something of a mystery. It's been theoretically linked to diabetes, vitamin or mineral deficiencies and psychological problems. Because it's most common among women of menopausal age hormonal changes have been proposed as a factor, although hormone replacement therapy often doesn't produce any symptomatic relief for BMS.
To complicate matters, other conditions often share the condition's effects, which need to be ruled out first to arrive at a BMS diagnosis. A feeling of scalding could be the result of mouth dryness, caused by medications or systemic conditions that inhibit saliva flow. Some denture wearers may display some of the symptoms of BMS due to an allergic reaction to denture materials; others may have a similar reaction to the foaming agent sodium lauryl sulfate found in some toothpaste that can irritate the skin inside the mouth.
If these other possibilities can be ruled out, then you may have BMS. While unfortunately there's no cure for the condition, there are ways to lessen its impact. There's even the possibility that it will resolve itself over time.
Until then, keep your mouth moist by drinking lots of water or using saliva-stimulating products, limiting alcohol, caffeinated drinks or spicy foods and refraining from smoking. If you're taking medications that could cause dry mouth, speak with your physician about changing to an alternative. And try to reduce stress in your life through exercise, mindfulness practices or support groups.
While BMS isn't considered harmful to your physical health it can make life less enjoyable. Careful symptom management may help improve your quality of life.
If you would like more information on Burning Mouth Syndrome, please contact us or schedule an appointment for a consultation. You can also learn more about this topic by reading the Dear Doctor magazine article "Burning Mouth Syndrome: A Painful Puzzle."